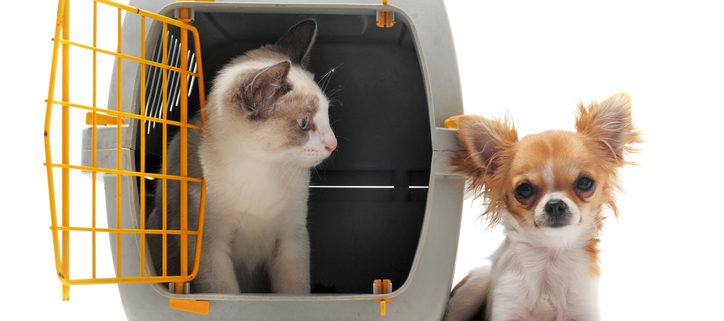 Have you ever felt guilty for leaving your cat or dog at home when you have to travel? Whether it's for an overnight trip or lengthy trips for business or pleasure, we're sure you've had to struggle with deciding whether to choose pet boarding versus a pet sitter to care for your fur baby.
For those who have to make this decision for the first time, it is okay to feel anxious. To help lessen the stress for you, we recommend you consider the advantages and disadvantages of the kinds of care available before deciding.
The Cost of Pet Care Varies Widely
Your cat or dog can be boarded at a kennel or a veterinary hospital or clinic that offers boarding care for pets, or can be cared for by a pet sitter. The prices are scaled to the type of environment, the amount of individual care offered, and any add-ons that you choose. 
Veterinarian Facility – A veterinary boarding facility can provide a scrupulously clean and safe environment, and healthy animal companions for your pet who will all have their vaccinations up-to-date. Pets are professionally monitored for signs of illness or problems. If your cat or dog requires health care, it will be provided.
Kennel – A kennel can also provide very suitable boarding care and prices vary. Do your homework and be sure to have a thorough understanding of the type of individual and group care offered and the safety measures you can expect.
Pet Sitter – The least expensive care is available from a pet sitter, with the sitter taking your kitty or pooch to his or her home for the duration, or moving into your home, or simply making daily visits for feeding, playtime, and walks. The costs vary depending on which services you need.
Hiring a Pet Sitter Has a Number of Advantages
You can arrange for a pet sitter to visit your home a couple of times a day to feed your pet, take them out on walks (if they're a dog), bring in the mail, and give your home the appearance of being occupied.
Cats, in particular, are usually happier in their own homes and may get stressed out when boarded. However, even an independent cat can become troubled if left entirely on their own and usually needs human contact, even if it's just a daily visit by a pet sitter for feeding and playtime.
If you have a sitter move into your home, you have the added expense of providing meals, but it is still less expensive than, say, a pet hotel. Also, most pets are happier in their familiar surroundings.
You can hire a trusted family member or neighbour as a sitter, but if that doesn't work, hire a professional. Check their references and make sure the pet sitter is insured and bonded.
Pet Boarding is the Most Popular Choice
Pet boarding is a good idea for cats and dogs who are more adaptable to change and will enjoy the companionship of others. However, if your pet isn't very open in terms of being around people and other animals, or exposed to new experiences, or is old and less sociable than he or she was, they will probably be happier with a sitter.
Be sure and check out the choices of veterinary facility accommodations. Interview the caregivers, tour the facilities, and ask for references. There may be such advantages as supervised cage-free running around and lots of playtime with other animals.
You may find that your cat or dog loves the boarding experience when he or she is young but not so much when they age. However, if they are older and troubled by arthritis or other conditions, you may have more peace of mind and be happy to be able to board them in a veterinary facility with trained medical people watching over them.
When deciding who will look after your kitty or pooch, factor in their age, personality, and physical limitations. Interview caregivers, do background checks, give complete instructions, and have a backup plan for emergencies. Leave the family's vet clinic contact info with whoever is caring for your pet, in case of an emergency. If you do your research and set high standards, you will enjoy peace of mind knowing that your fur baby has the love and attention they need, no matter what your decision.
Creative Commons Attribution: Permission is granted to repost this article in its entirety with credit to the Hastings Veterinary Clinic and a clickable link back to this page.
https://hastingsvet.com/wp-content/uploads/2017/08/Pet-Boarding-vs.-a-Pet-Sitter-Which-is-Better-for-my-Pet.jpg
483
724
Hastings Staff
http://hastingsvet.com/wp-content/uploads/2016/05/logo.png
Hastings Staff
2017-09-05 12:54:59
2017-08-30 10:08:29
Pet Boarding vs. a Pet Sitter—Which is Better for my Pet?