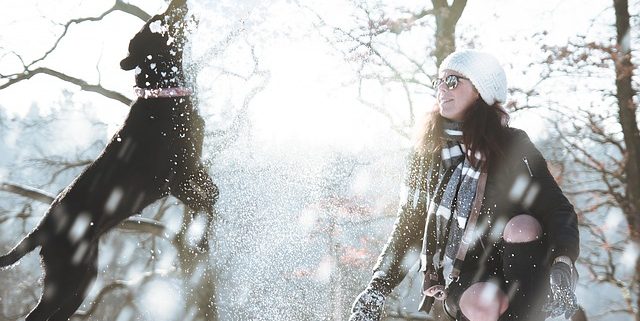 Dogs love to go for walks no matter what the weather is like! Thanks to our awesome climate in the Vancouver and Burnaby areas, the weather is usually mild enough that you can go outside and walk and play with your dog even in the winter. It sure can get cold though! This drop in temperature presents some safety concerns for dog owners, which is why we are offering you five important safety tips to help you deal with the challenges of walking your dog in the winter.
Remember that the benefit of taking your dog for regular walks during cold weather usually outweighs the risks, but you must pay attention to how your dog is reacting. In general, the colder the weather is, the shorter the walk should be. Check the weather forecast and the wind-chill factor online before you go out.
1. Learn to Deal with Cold Weather Risks
You must watch out for signs that your dog is too cold for comfort. If he or she seems to be having fun but then starts to whine, repeatedly lifts or licks their paws, or begins to shiver, it's time to head back home. Some breeds, especially bigger dogs with thick coats, are much more tolerant of the cold. Even so, they shouldn't be walked for too long or left outside for a long period of time.
Keep a close eye on your senior dog and expect the winter weather to aggravate their arthritis and stiffness. Older dogs need to be exercised, but the length of your walks should decrease as your dog ages. Talk to your veterinarian about supplements to help with their arthritis.
Frostbite is no joke and dogs are at a greater risk of this when the cold winter months settle in. If you see signs that the skin on your dog's ears, nose, paws, or tail have become cold, pale, and hard, you have to worry about frostbite if the walk is prolonged. Take your dog home and apply warm—not hot—cloths to the areas and wrap your little friend in a warm blanket. Don't allow biting, scratching, or chewing of the affected areas as they can become infected.
Pay particular attention to your pet's paws. Keep the hair between your dog's toes clipped so that ice doesn't accumulate in small, hard balls that make walking painful. After a walk, always wipe your dog's paws with a warm, wet cloth to remove salt and other chemicals that have been used to treat roads and sidewalks, and dry them carefully. Apply a dog-safe moisturizer—not one for humans—to keep your dog's paw pads from drying out and cracking.
Consider buying protective clothing for your dog—a sweater or coat—especially if your dog is small with short hair. Your dog is not as fashion conscious as you are and will certainly appreciate a cozy sweater's warmth when the temperature drops. Have more than one coat or sweater available so you will be able to alternate and give them time to dry out between walks. A wet sweater will make a dog much colder than dry fur or hair.
2. Keep Your Dog from Eating Harmful Substances
Although you must always be on the alert for your dog's inclination to eat almost anything interesting and edible found outside, winter brings particular substance dangers with it. The chemicals in products used to melt ice as well as road salt and antifreeze are very toxic and can contaminate other items dropped on the road and sidewalks that may smell and look appealing to your pet. Make sure your dog is not allowed to eat anything found outside. The best way to do so is to make sure your pet is fed before leaving the house, and to carry a few treats with you.
As well as food items that may entice your pet to take a bite, make sure unlimited amounts of snow are not consumed. Bring some water—you can purchase a pet water bottle that has an attached dish—and offer it to your pet from time to time so that eating the snow isn't too appealing. You never know what chemicals may be in snow.
3. Watch Out for Ice Hazards
This is the time of year that boots or booties become practical footwear for dogs. Not only will they keep your dog's paws reasonably dry and warm and protect them from toxic substances, but also they can keep your dog from slipping on the icy road or sidewalk.
4. Avoid Problems with Metal
We all know about the obvious problem with metal in the winter, and young humans aren't the only ones tempted to lick them. Like humans, dogs might lick a metal object and pull the skin right off their tongues in an effort to break free. Try and imagine that pain.
There is another danger in winter from metal posts, plates, sewer covers, electrical boxes, etc., and it is the risk of electrical shock. Melting ice and snow and faulty wiring can create an electrical hazard, which means you and your dog should steer clear of metal, and is another good reason for keeping your dog on a short leash when walking in the winter.
5. Be Aware of Dangers That Lurk in the Dark
It is safer to walk your dog in daylight than in the dark, but with winter's shorter days and longer nights, you may not have that choice. Be sure to wear clothing with reflectors to catch the light from headlights in order to reduce the danger from traffic. Your dog's collar should also be reflective and you can attach LED lights to the leash. Remember that it takes vehicles longer to stop in snow or on icy streets, so you should give drivers as much warning as possible that you and your dog are sharing the roadway.
When daylight is fading or approaching, keep to the sidewalks as much as possible. Remember that dogs become cold quickly if snow touches their unprotected bellies, so you should avoid deep snow as much as possible. Frost and, on rare occasions, deep snow can sometimes conceal sharp objects as well.
Burnaby Dog Parks for Wintry Walks
Naturally if it's snowing out too hard or the temperature is too low, it's best if you and your dog both stay inside. However, if the weather is mild as usual, consider taking your dog out to one of the following dog parks in Burnaby BC and the surrounding areas. These dog parks listed below are open year round:
David Gray Park enclosure
Confederation Park's off-leash trail
Burnaby Heights Park's off-leash area
Warner Loat Park
Burnaby Lake Regional Park
Malvern Park
Robert Burnaby Park
Taylor Park
Using these five safety tips for walking your dog in the winter will help you keep your pooch healthy, happy, and safe when the cold weather sets in. Happy walking!
Creative Commons Attribution: Permission is granted to repost this article in its entirety with credit to Hastings Veterinary Hospital and a clickable link back to this page.
https://hastingsvet.com/wp-content/uploads/2018/12/Hastings-Veterinary-Clinic-5-Safety-Tips-for-Walking-Your-Dog-in-the-Winter.jpg
426
640
Hastings Staff
https://hastingsvet.com/wp-content/uploads/2020/01/HastingsLogo_Official.png
Hastings Staff
2018-12-10 12:03:57
2019-05-29 12:57:01
5 Safety Tips for Walking Your Dog in the Winter