OUR TEAM
At Hastings Veterinary Hospital, we are committed to providing comprehensive pet healthcare in an affectionate manner. All of our staff is dedicated to the profession of pet healthcare, and each and every pet we see is cared for just as we would care for our own.
We are exclusively a small animal practice, providing preventive healthcare and treatments for cats and dogs. Our veterinarians, Dr. Amardeep Bajwa, Dr. Carmen Saenz, and Dr. Sheelagh Shanahan are committed to the provision of loving, professional care for all pets. Our veterinary technicians and vet office assistants regularly attend continuing veterinary education to update their skills in all aspects of veterinary care.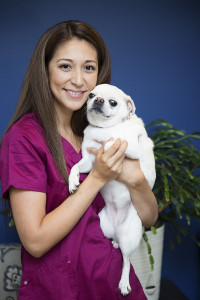 Dr. Carmen Saenz, Veterinarian
Dr. Saenz graduated as a veterinarian from Centro de Estudios Universitarios Veterinary College in Monterrey, Mexico in 2005 where she worked as a small animal practitioner for one year before moving to our beautiful British Columbia, a place that proudly she calls home.
Since 2007 she has been working at Hastings Veterinary Hospital, initially studying and preparing to obtain her Canadian Veterinary Licence followed by providing taking appointments with lots of tender, loving care. Her passion and love for animals make her want to help to make this world a better place for all critters.
Carmen likes to spend time with her husband and their kids, Maki the doggy, Bluebelle the kitty, and Andre their son. She also enjoys hiking, reading, organizing messy places, and watching movies, especially at the drive-in theatre.
Pets: Maki and Bluebelle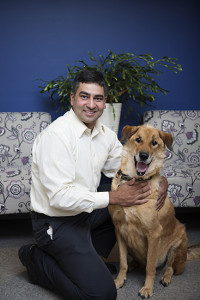 Dr. Amardeep Bajwa, Veterinarian
Dr. Bajwa graduated from the Veterinary College UAS, Bangalore in 1999 before moving to Vancouver. As per his goal to help provide his cat and dog patients with the most compassionate and advanced vet care, he went to the Oklahoma State University veterinary school to enhance his small animal medicine experience and expertise. Upon moving back to Vancouver, he started practice at Hastings VH in 2005 and loves working with the excellent local community and their pets in the north Burnaby area.
He has a special interest in veterinary ophthalmology (eye care) and internal medicine for companion animals. He is also an excellent surgeon. He attends ongoing continuing education labs to keep his skills up to date related to vet medicine, pet dentistry and compassionate pet care. His other interests include spending time with his family and his dogs, and he also loves sports and travelling.
Pets: Poncho and Turbo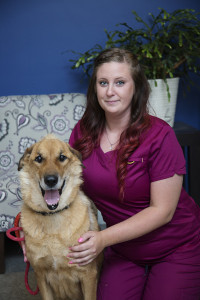 Ashley LeMond – Office Manager – Vet Assistant
Ashley is the head receptionist here at Hastings Vet Hospital. She began her career here with us in October of 2010. Ashley graduated from the VA program at West Coast College. She has learned so much working with us and has built very strong relationships with clients and patients. Ashley loves playing softball and plays on many teams and even participates in national tournaments. If you can't find her on the ball field you can find her cozied up with her best pal "Fanta" her big, fat, orange kitty.
Pets: Opie, Meeka, Fanta, and Mya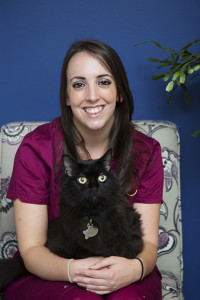 Veronika Sanchez – Registered Veterinary Technician (RVT)
Veronika started working at Hastings Veterinary Hospital in fall of 2008 as a Veterinary Assistant. She soon realized that she wanted to advance her career in the veterinary field and enrolled in the Veterinary Technician course at Douglas College. She graduated from the program in 2015 and passed the board exam that same year and became a Registered Veterinary Technician. Veronika loves being a technician for the challenges and surprises each day brings. "No two days are the same when you work in veterinary medicine and I love that about this career. There is also no greater feeling than seeing a sick or injured animal get better and know that you played a part in their recovery". She recently celebrated 10 years at Hastings and enjoys the close team atmosphere and long-term patient/client relationships she has developed over the past decade. She has a passion for radiology and hopes to one day further her education in this field and has a fondness for large breed dogs. During her free time Veronika loves spending time in the great outdoors, whether it be Atving, snowmobiling, camping, or traveling with her husband and son. She hopes to one day own a Greater Swiss Mountain Dog, but her heart currently belongs to her spirited Doberman mix "Valhalla".
Pets: Valhalla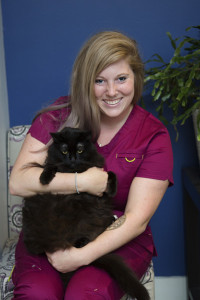 Brandi Watson – Registered Veterinary Technician (RVT)
Brandi has been working for Hastings Veterinary Hospital since September of 2011 after she graduated from the Douglas College Veterinary Office and Animal Care program. In June 2016 she graduated from the Douglas College Veterinary Technician Diploma program and became a Registered Technician the following month. She loves being a tech because every day is a different day and new patients with new puzzles. Even though the job is emotionally tiring at times, being able to see patients make full recoveries and being able to be a part of that makes it all worthwhile. In the future, Brandi would like to pursue a career in the rehabilitation area of small animals and/or wildlife care and would like to acquire more hands-on experience with exotics and avian species. While living a busy life with a full-time career and trying to incorporate soccer and softball, as well outdoor activities, Brandi always tries to keep a positive and upbeat outlook on life. She has, in the past, shared her home with many exotic pets such as rats, degus, and hamsters. Both she and husband Russell love animals and share their home with Ron "Weasley", a 4-year-old domestic long-haired orange tabby cat. The newest addition is Billy Jean, a 1.5-year-old solid white domestic shorthair cat who is full of energy. Brandi and her family also share the family dog, Leeroy Brown, a 13.5-year-old Terrier mutt mix.
Pets: Leeroy Brown, Ron Weasley, Billy Jean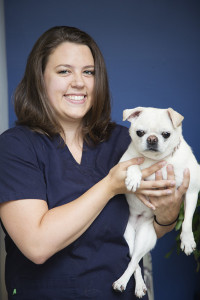 Chenoa Flack – Patient Care Assistant
Chenoa joined the Hastings Veterinary Clinic team in early 2015. She graduated in 2013 from Thompson Rivers University with a BSc. in Chemical Biology. Chenoa enjoys working with pets as well as wildlife, having spent some time volunteering at the BC Wildlife Park Rehabilitation Centre, and her spare time is spent on her ever-changing hobbies or enjoying the outdoors.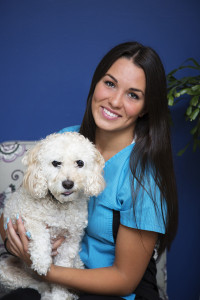 Brie Evans – Client Care Representative
Brie has been working here at HVH since she was 16 years old. She is currently going to school with the goal of becoming a veterinarian. She considers her job very rewarding and has always known this is what she wanted to do since she was a little girl. When she's not at school or work she loves to go hiking and hang out with her cat Loki, who she rescued through Hastings Vet, and her senior pup Jazz.
Pets: Loki and Jazz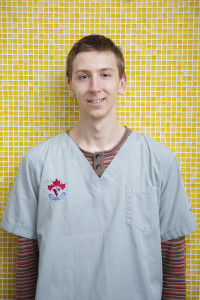 Jared – Animal Care Volunteer