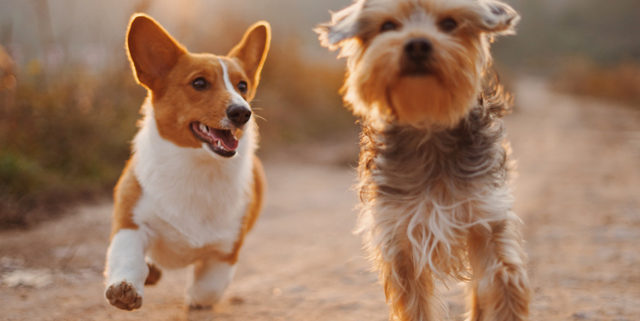 When we say socialize your dog, we mean teaching your puppy to mingle with humans and other animals. Socializing your dog will help them adjust to their surroundings via exposing your pet to different people and pets, as well as to a good variety of situations, sounds, environments, and objects.
Socializing your dog should begin as soon as possible, as it will teach dogs to become used to normal daily events and to react positively to their environments.
Socialization Includes Huge Benefits for Dogs
When he or she is properly socialized, your dog will adjust to changes in the surrounding environment without becoming disturbed by what is seen, heard, and encountered, resulting in good manners and happiness.
Your dog will not be fearful of new people, pets, places, and experiences.
Socialization will shape your dog into a good companion who is well-domesticated and well-behaved for life.
The possibility of your dog developing separation anxiety is greatly reduced.
If your dog must leave you for some reason, he or she will have an easier time adjusting to a new caregiver and home.
Dog Training Should Start Early for Best Results
It is best to start socialization in the first four months of your dog's life. Puppies are very impressionable and will try hard to please their pet parents.
Dog training will have to continue throughout your pet's life, although it should begin right away—the sooner, the better. At different stages of development and whenever introducing new experiences, you will have to teach your dog new social skills, for example not to chew on your shoes and not to snap at children.
If your dog begins to jump up on you or on guests as a greeting, move in close to reduce the jumping distance and firmly and loudly say, "No jumping." Instruct your guests not to speak or make eye contact until your pooch has become calm. Give treats and praise when that happens. You can read more dog jumping prevention tips here.
If your dog chews or bites, firmly and loudly say, "no," and stop the activity, or remove the object being chewed (or remove the dog from the area).
Avoid visiting dog parks until your pooch has had all of their required vaccinations. You don't want your puppy to play with dogs that may be unhealthy. Create other safe opportunities for your dog to meet and mingle with other dogs.
Don't believe the phrase "you can't teach an old dog new tricks." Actually, you can! Even if your dog was not with you during those early, most teachable months and years, you can still help your older dog form new, positive associations with what may have been frightening experiences in the past. Slowly introduce your dog to new sights, sounds, smells, and people, and offer treats and praise to help your pooch overcome unpleasant associations.
There are Serious Risks for Dogs Not Properly Socialized
These are the characteristics of adult dogs who have not been properly socialized:
Fear of many situations such as playful children, or riding in a car
Aggression towards strangers and other animals
Anxiety when hearing unusual sounds or having new experiences
Antisocial behaviour including not being able to interact comfortably with new people or animals in general
Separation anxiety in some cases
It is a risk to pets if behavioural issues result from insufficient socialization, meaning your dog will be less safe if they're always afraid of strangers or if they're constantly unfriendly to other animals. Socialization in dogs can reduce these risks in the following ways:
If your dog becomes lost, your pooch will not be afraid of or run from people who try to rescue and care for your pet until you can be located.
Your dog will not be hostile towards all dogs who approach him or her, and therefore will be less willing to fight more aggressive dogs.
Use These Steps to Successfully Socialize Your Dog
Daily walks are important. Don't forget to bring poop bags and clean up after your dog when walking or in any public area. Take your pooch on a short leash for walks using different routes. This will help them encounter different sights and sounds and become used to traffic, animals, and people, both young and old. Don't forget that most humans, other than babies, are bigger than your dog.
Start slowly with only a few new experiences and a few new human and animal encounters each week. Gradually move to bigger crowds and more public experiences.
Over time, make sure your pup gets used to having his or her body handled and that they react well to affectionate pats and ear and tail fondling. Don't push these actions too fast and watch your dog for signs of nervousness such as heavy panting, yawning, tucking their tail between their legs, and straining on the leash.
Your dog should become used to bodies of water—large and small—and puddles, beaches, parks, woods, and urban areas.
Introduce the sights and sounds of bicycles, strollers, baby buggies, skateboards, trucks, buses, and cars, as well as Frisbees, footballs, and other toys.
Make sure your pet becomes used to walking on different surfaces, such as grass, tile, cement, carpet, and hardwood.
When your pet encounters some new sight or sound—a police siren, a raccoon, a pigeon—be calm, have treats ready and lots of praise: "Good dog," "Good boy," "Good girl." Remember, dogs can interpret your emotional state and if you are nervous or fearful, your dog will react the same way.
Once your pet has had their required vaccinations, you are ready for the dog park where your puppy will meet new friends. Use caution and don't expect your little dog (if they are little) to enjoy meeting a huge one unless you are by his or her side. After your dog has made a new friend and behaved well, be sure and give your dog a treat and praise.
When your dog is trained to come when you call and you are confident about it, you can take your pet to an off-leash park to meet new friends on his or her own under your supervision.
Dog training classes are great for busy people who want specific instructions on training and whose schedules are limited. These classes also provide socialization opportunities with the other puppies and dogs.
Socialization, i.e. teaching your dog how to behave in various situations and environments with people and animals, will shape your dog into a happy, well-adjusted, and well-mannered companion who is obedient and confident. What could be better?
Creative Commons Attribution: Permission is granted to repost this article in its entirety with credit to Hastings Veterinary Hospital and a clickable link back to this page.
https://hastingsvet.com/wp-content/uploads/2019/07/Blog01_02_HowSocializeMyDogWhenShouldIStart.jpg
426
640
Hastings Staff
https://hastingsvet.com/wp-content/uploads/2020/01/HastingsLogo_Official.png
Hastings Staff
2019-08-26 09:47:08
2019-08-29 09:46:24
How Do I Socialize My Dog & When Should I Start?